About us
Our website adress is : https://kdetude.eu
Use of personal data collected

Statistics and Audience Metrics

The site is free of any third-party tracker, and the visitor tracking tool used is the Matomo (ex Piwik) opensource tool.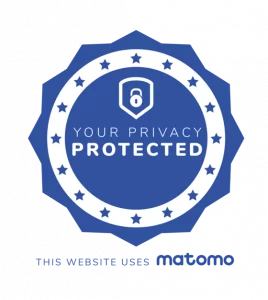 Matomo runs on the same hosting as the main site, no audience or visit information is shared with third-party services. IP addresses are anonymized, and you can disable Matomo tracking by setting your browser not to be. Audience measurement is only used to better identify topics of interest to you and to improve the site.
You may choose to prevent this website from aggregating and analyzing the actions you take here. Doing so will protect your privacy, but will also prevent the owner from learning from your actions and creating a better experience for you and other users.
Status of your navigation tracking
Matomo processes the following data:
Cookies
Anonymized IP address by deleting the last byte (so 198.51.100.0 instead of 198.51.100.54).
Pseudo-anonymous location of the user (generated from the anonymous IP address)
Date and time
Page title consulted
URL of page visited
URL of the page that was accessed prior to the current page (if the page allows)
Screen Resolution
Time in local time zone
Files clicked and downloaded
Links to an external domain
Page generation time
Country, region, city (low resolution based on IP address)
Browser main language
Browser User Agent
Contact forms
The data transmitted by the contact form will be used exclusively to answer you.
Embedded content from other sites
Articles on this site may include embedded content (such as videos). Content integrated from other sites behaves in the same way as if the visitor went to this other site.
These websites may collect data about you, use cookies, embed third-party tracking tools, track your interactions with such embedded content if you have an account connected to their website.
Advertising
KDetude.eu does not include any advertising.
Security logs
The IP address of the visitors, the username of the connected users and the username of the login attempts are conditionally logged in to check the malicious activity and protect the site from specific types of attacks. Examples of log-in conditions include log-in attempts, log-out requests, suspicious URL requests, changes to site content, and password updates. This information is retained for 14 days.
The rights you have to your data
If you have an account or have left comments on the site, you can request to receive a file containing all the personal data we have about you, including those you have provided to me. You can also request the deletion of your personal data. This does not take into account data stored for administrative, legal or security purposes.
Consent
By using this site, you consent to our privacy policy.
Contact information

For further information please contact contact@kdetude.com.